HLB McKeogh Gallagher Ryan are accepting applications for our 2017 Graduate Recruitment programme. We are recruiting for trainees to work in our audit department, studying for the Chartered Accountancy professional exams, and to work in our taxation department studying for the Irish Tax Institute professional exams.
GRADUATE RECRUITMENT
We provide three-and-a half-year audit training contracts with Chartered Accountants Ireland and three-year tax training contracts studying for the Institute of Tax CTA.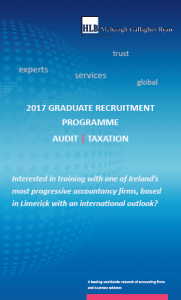 Our graduate training is based around on-the-job training, which is tiered each year so trainees build on both their work experience and study courses, gaining responsibility and challenges as their confidence grows. Trainees are mentored by senior staff so they always have someone to go to with any query (large or small) in an informal and friendly way. Trainees are core members of each project team and work with senior team members on a range of live projects, interacting with clients, government agencies and other professional service firms. We also pride ourselves on our open door policy and direct access for all staff to our partners.
We pride ourselves in recruiting the best graduates and in return we provide an open supportive culture and potential for a career path. We invest in our people. Our objective is to support you in achieving your professional qualification through induction, training programmes, mentoring and coaching.
To download our graduate recruitment brochure click here.
HOW TO APPLY
Application is via email only.
Email a cover letter, CV and a breakdown of your results to Eimear Quin equin@hlbmgr.ie
YOU MUST INCLUDE THE FOLLOWING:
 Which area you are applying for – audit or tax.
 Your college results listing the subjects and grades for each year (this can be an appendix to your CV).
 Your Leaving Certificate results. List the subjects, level, grade and points. We have a preference for students with honours in higher level mathematics or an A in ordinary level mathematics.
 Tell us why this career area interests you.
 Detail any relevant work experience.
 Details (subjects and results) of any professional or post-graduate exams already undertaken.
CLOSING DATE: 24 OCTOBER 2016 AT 5.00PM
These positions are scheduled to start in Summer/Autumn 2017 and are based in Limerick. Selected candidates only will be called for interview.