LOOKING FOR A TAX BREAK – GET A HEAD START ON YOUR 2020 TAX EXPOSURE
AN EIIS PRIVATE PLACING INVESTMENT OFFERS UP TO 40% ALL INCOME TAX RELIEF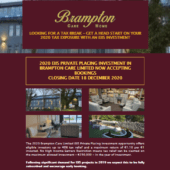 The 2020 Brampton Care Limited EIIS Private Placing investment opportunity offers eligible investors up to 40% tax relief and a maximum return of €1.10 per €1 invested. No High Income Earners Restriction means tax relief can be claimed on the maximum allowed investment – €250,000 – in the year of investment.
Following significant demand for EIIS projects in 2019 we expect this to be fully subscribed and encourage early booking. The closing date is 18 December 2020, or earlier if fully subscribed.
KEY STATS

Investment term
4 years
Tax relief available
Up to 40%
Maximum investment
€250,000
Minimum investment
€5,000
Proposed exit
Q1 2025
Phase 3 & 4
68 beds and additional facilities
Projected net cash flow
€22,597
Projected buyout price
1.10 per €1 invested
Based on a €50,000 investment
Capped on exit
Closing date
18th December 2020
New EIIS certification rules:
BCL will self-certify the
Early booking encouraged as private placing will close once fully subscribed which may be before official closing date
investors' tax relief & provide Statements of Qualification
THE PROJECT
Brampton Care Ltd is a company established to run Brampton Care Home ("BCH"), an upmarket, modern care home situated off Main Street in the heart of Oranmore, County Galway, in the former Galway Oyster Hotel premises.

BCH is one of the most modern and spacious nursing home facilities in the West of Ireland. Operational since November 2018 BCH currently has capacity for 77 residents.  Phase 1, comprising of 46 beds, has 100% occupancy. Phase 2, comprising an additional 31 beds, opened to residents in September 2020. The Promoter is growing the facility in managed phases to reduce the operational and financial risk, and will eventually cater for 145 residents. When completed it will be the largest private nursing home in the region.

The EIIS funds raised in this the 2020 private placing will be used to fund the development and construction of Phases 3 & 4 – comprising 68 beds and additional facilities including a laundry, staff changing room, canteen and administration offices. Initially the Promoter had only intended to raise €3m in 2019, with follow on funding targeted for 2020. However, due to the demand for the project the total EIIS funds raised in 2019 was €5m. A further €5m is now targeted for the 2020 fundraising.
KEY ATTRACTIONS

77 beds currently opened, HIQA registered and well received
Convenient and accessible town centre location
All bedrooms large, spacious and en suite
Projected low loan to value in place for exit
Low conversion cost compared to a greenfield site due to location in existing hotel premises

Management team in place including Director of Nursing, General Manager/Chartered Accountant, nursing staff, HCAs
Asset backed – 75,000 sq. ft. with full planning permission in place for 145 bed spaces
Hotel site purchased in 2013 at a significant discount from original build cost
Selection of day rooms and dining options
Expression of interest letter from leading Irish bank
CLOSING DATE: 18 December 2020
FOR FURTHER DETAILS CONTACT
ANNE HOGAN
Associate Tax Director