We're delighted to support Limerick city's bid to be the 2020 European City of Culture and are proudly displaying the logo in our window. There is a large campaign in the city for businesses to show their support for the 2020 bid after the success of the city's experience as Irish City of Culture in 2014.
For 30 years the European Union has designated one or more cities as a European Capital of Culture. The European Capital of Culture designation is for a period of one calendar year during which a city and/or a region organises a series of cultural events with a strong European dimension, promoting cultural diversity and common features of our European Heritage. Ireland is eligible to host the European Capital of Culture in the year 2020.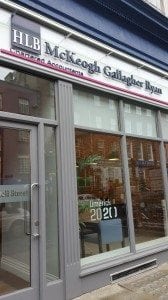 The bid is about reimagining Limerick. The culture of a city does not have a beginning or an end. It is a continuous elaboration, retrenchment, expansion and consolidation. Limerick and its people are on a pathway of change, development, regeneration and engagement. Limerick is connecting with its people and its rich culture to imagine its future and is emerging from a quiet minute into a new dawn.​ Join us on this wonderful journey.
Click here to read  more about the Limerick's bid for the 2020 European City of Culture.