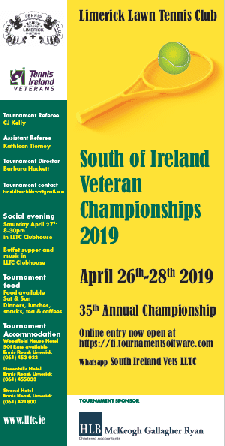 HLB McKeogh Gallagher Ryan are delighted to sponsor the South of Ireland Vets Tournament, hosted by Limerick Lawn Tennis Club running from April 26 – 28.
This is our seventh consecutive year sponsoring this regional tournament which sees players from tennis clubs across the South of Ireland compete in an intense weekend of singles and doubles tennis.
With a social evening on Saturday April 27th followed by a prize giving ceremony on Sunday, with our very own Sile Casserly ,making the presentations, it's a fun and busy weekend.