The Mid West Society of Chartered Accountants had a capacity crowd in the Savoy Hotel on Thursday night (14th April) for the Spring Ladies event, which we were delighted to sponsor. During a  busy evening of networking, socialising and pampering the region's professional women picked up important tips about branding, planning for your financial future, progressing in your career and managing to do all of this stylishly!
It was a packed agenda with Bellissimo and Estée Lauder on hand providing mini make-overs.  Joan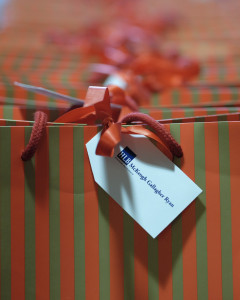 Garahy of Clearview Investments & Pensions Ltd pointed out the alarming statistic that 71% of women in Ireland still do not have a pension and the average female retirement income remains at a paltry €2,000 p.a. while men's expected annual income has risen from €4,000 p.a. to €5,400 p.a. Not only do women need to adequately plan for their pensions but the gender pay gap in Ireland is also increasing which Laura Bourke from Morgan McKinley highlighted and how it's up to women in the workforce to address this. It was 12.6% in 2008 and 2009 and increased to 13.9% in 2010 and 14.4% in 2012 (*most recent figures available). In Ireland the gender pay gap is around 4% for the bottom 10% of earners, but this figure jumps to 24.6% when it comes to the top 10% of earners.
Louise Lawlor MD of Blink Design and chairwoman of Network Limerick, the women's networking association, demonstrated to the audience the importance of personal branding, how to build it and maximise it to aid in your career progression. The evening was finished with Fiona Doyle of the Glamour Agency discussing fashion and style in a practical sense and applying it to work wear, with the wise words that your fashion should be a reflection of who you are and the best style is effortless, creative and individual.
Limerick accountants and business advisers, HLB McKeogh Gallagher Ryan, were delighted to sponsor the event with Corporate Recovery and Business Advisory Manager Sile Casserly capably in the chair. Speaking at the event Sile commented: "We are delighted with the turnout, it's great that so many companies in the region are supporting us and we hope everyone enjoyed both the relaxed and fashion sides to the evening but also took away important tips about looking after their own finances and progressing their own careers. As accountants we often spend all our time looking after our client's financial affairs to the detriment of our own. I would also like to thank all of our speakers who have given us really interesting food for thought; and Bellissimo and Estée Lauder who have helped us look for the part for the evening!"
Can you spot yourself below?
| | |
| --- | --- |
|   |   |
| | |
| | |
| | |
| | |
| | |
| | |
| | |