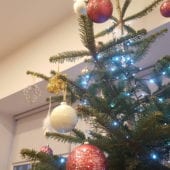 While 2020 has been quite a year for everyone we're delighted to usher in the Christmas season. Our tree arrived in the Limerick office and is sparkling in our window.
Extra lights and garlands to follow!
Our Ennis and Nenagh offices are similarly festive, and we hope all our clients, colleagues, staff and neighbours enjoy and can make the most of the festive season.
We may not be able to have our usual Christmas drinks and other festivities this year but we'll still radiate some Christmas cheer from our offices. Here's to a lovely December.