Our Tax Manager Sarah Kelly gives HLB International a VAT update from Ireland, writing about the importance of a VAT check up and how VAT continues to be a popular focus of Revenue audits.
As a Fiduciary' ta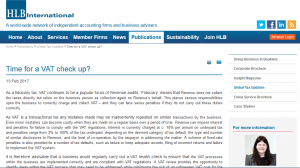 x Revenue does not collect VAT directly but relies on the business person as collection agent on their behalf,  placing serious responsibilities upon the business to correctly charge and collect VAT – and they can face series penalties if they do not carry out these duties correctly.
Click here to read the full article.