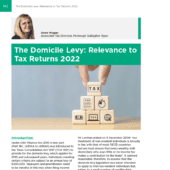 Our Associate Tax Director Anne Hogan wrote an article for the Irish Tax Review on the Domicile Levy and its relevance to Tax Returns 2022. Anne looks at the circumstances in which it
can apply which are much broader than one might initially expect, and how taxpayers and practitioners need to be mindful of the levy when filing income tax returns.
Click here to read the full article.