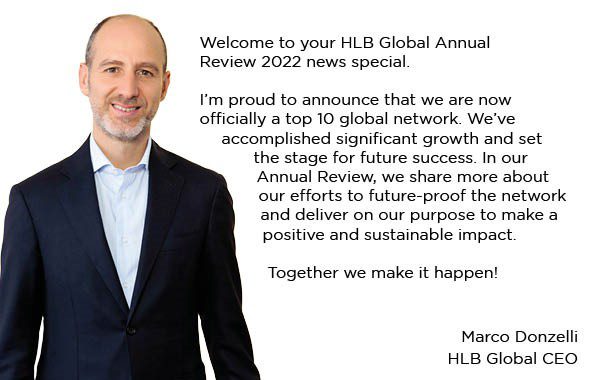 Our member organisation HLB International recently published its global annual review highlighting the network's significant growth with a substantive 9% in FY22, reaching a combined annual revenue of US$ 4,436,899,551.
HLB International credits this success to our ability to remain focused on our strategic priorities and draw on the skills and capabilities of our diverse global community.
Key 2022 highlights
Global combined revenue of US$4.44 BN, a 9% increase from FY21
Top 10 position in global network ranking
We are now 40,831 people across 156 countries and with 1,128 office locations
Audit & Assurance services make up 28% of revenue, Advisory services and Tax services both account for 27%, Accounting services make up 14% of revenue and 4% is coming from other services.
Our carbon footprint was reduced by 9% compared to 2021.
Explore and download the full report here