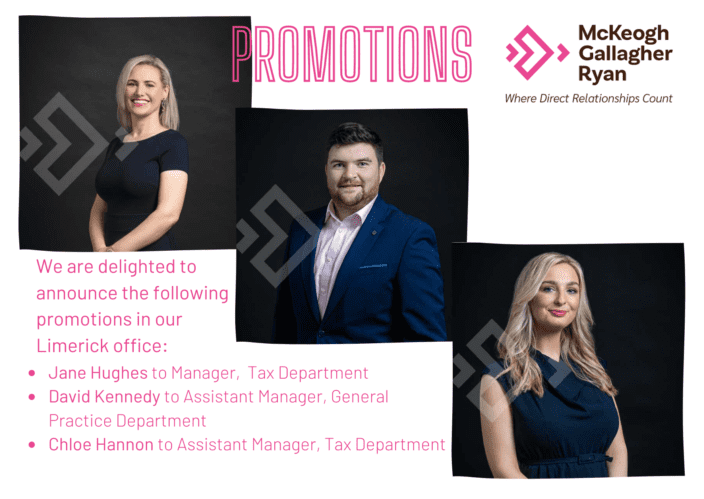 We are delighted to announce the following promotions in our Limerick office: Jane Hughes as Manager in our Tax Department, David Kennedy as Assistant Manager in our General Practice Division and Chloe Hannon as Assistant Manager in our Tax Department.
The firm is delighted to acknowledge and reward the hard work and commitment of David, Jane and Chloe with these well-deserved promotions. 2022 was a very busy and interesting year for the firm as the economy and our clients emerged from the pandemic.
There were many challenges faced by our team and clients, but also new opportunities arose, and we were delighted to be there navigating a way through with our clients. Having celebrated 10 years in business during the Summer of 2022 we are looking forward to the next 10 years with our enhanced, youthful and forward-looking management team.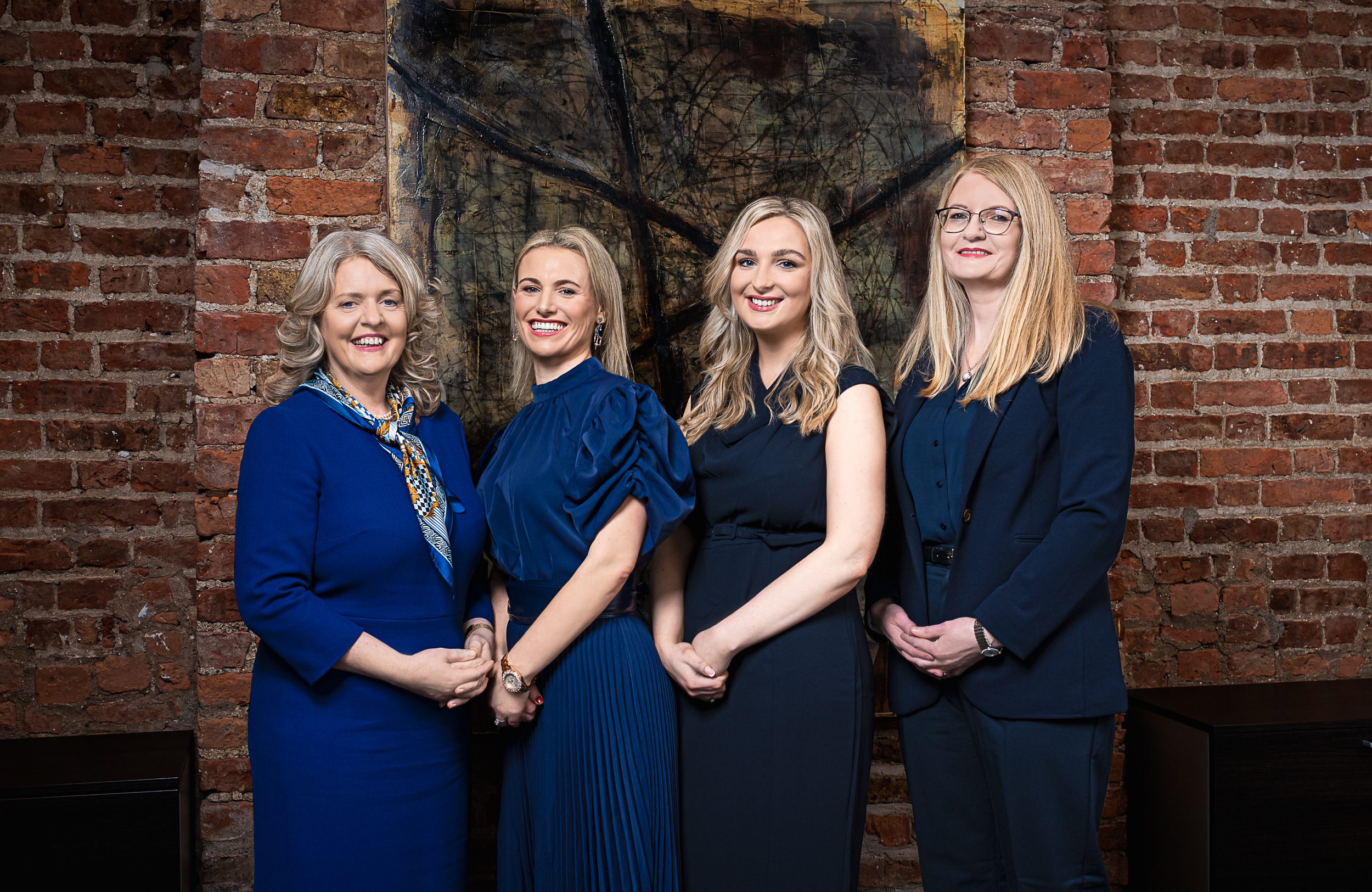 Speaking about Chloe and Jane's promotions Tax Partner Mary McKeogh stated: "All the partners are delighted with the contributions Jane and Chloe have made to the firm. Jane was promoted to Assistant Manager last year and quickly proved herself an extremely capable and resourceful manager, with a very busy client load. Chloe joined the firm in 2021 and has quickly established herself as an excellent tax professional – at ease with clients, multi-tasking across compliance and consultancy assignments, and also assisting with training and developing the tax trainees. Both Jane and Chloe work very closely with myself and our Tax Director Anne Hogan, and we are looking forward to their continued success with the firm."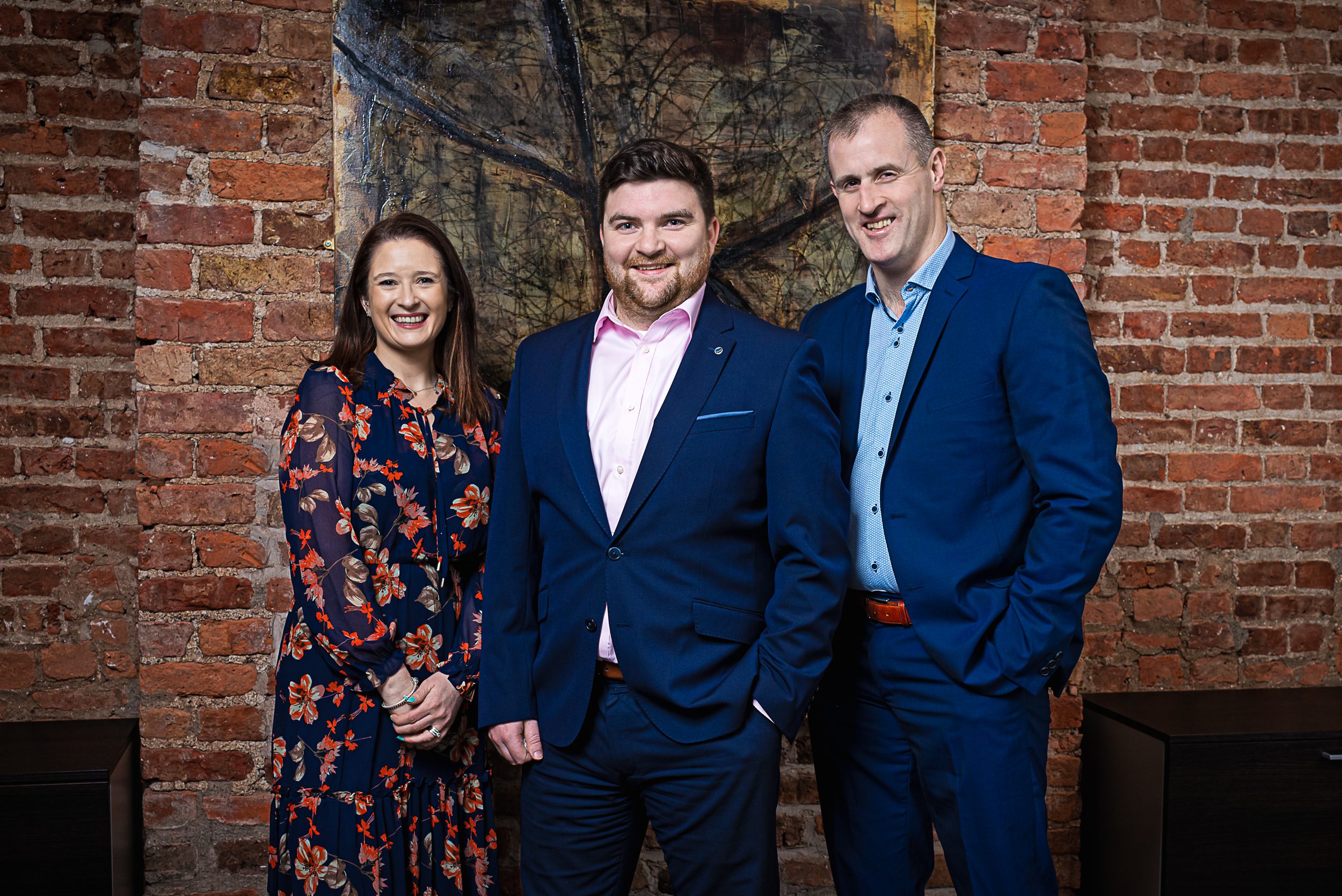 Speaking about David's promotion Audit Partner Eoin Gallagher stated: "David joined the firm as a trainee accountant in 2018 and has, time and again, proven himself an invaluable member of the department. He was a diligent and conscientious trainee and is now a dedicated and adept accountant, calm and clear thinking with excellent people management skills. He is respected by his clients and colleagues alike. He works closely with myself and Senior Audit Manager Aileen O'Neill overseeing a very busy audit department and we are delighted he is commencing his management career with us."
| | |
| --- | --- |
| | Jane Hughes is based in Portarlington, Co Laois. A graduate from Maynooth University, Jane is a Chartered Tax Advisor. As the firm's Tax Manager she supervises and manages our large tax department while also working on her own case load of VAT consultancy, succession planning, corporate tax advisory and compliance assignments. Jane is analytical and technical, and brings a clear-thinking positive demeanour to her role. |
| | David Kennedy is from Ballysimon, Co. Limerick and an honours graduate from TUS Moylish's BBS Accounting & Finance degree. He is a Chartered Accountant. As the firm's Assistant Audit Manager he works closely with Partner Eoin Gallagher and the senior audit management team on statutory audits, accounts production and audit exempt engagements for a broad range of our corporate clients from pharma and aviation companies to family-owned businesses and manufacturing enterprises. David is a skilled accountant, technical and meticulous, with excellent management skills, liked and admired by his clients and colleagues alike. |
| | Chloe Hannon is from Newport, Co Tipperary. A first-class honours graduate from TUS Moylish's Law & Taxation degree, she trained with a Top 6 firm in Limerick and is a Chartered Tax Advisor. As the firm's Assistant Tax Manager she works closely with Partner Mary McKeogh and the senior management team, training junior staff and working with our personal and corporate tax clients providing compliance and advisory services. Chloe has an exemplary work ethic, is highly organised and efficient while also being engaging and good humoured. |